Alexis I. duPont High School
In Memory
Shawn Guy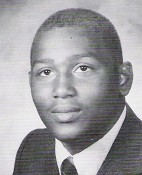 Shawn F. Guy, son of Elouise M. Guy, and the late Alan Dorsey was born on February 2, 1970, in Wilmington, Delaware. He departed this life on Tuesday, June 18, 1996, at the Wilmington Hospital.

Shawn graduated from A.I. duPont High School and attended and received an associates degree in Human Services from Del Tech Community College.

He was employed by Richardson Park Elementary School Learning Center and the City of Wilmington Parks and Recreation.

Shawn was very close to his Mother, Brothers, Aunts, Uncles, Cousins, and Special Friends. He had a devotional love for his Grandfather, whom he called Daddy. He did not have any children of his own, but was like a father to many, many children. He was a basketball, football and baseball coach. Coach Shawn was very loving, and always happy, with a positive attitude in life. His first love was coaching and trying to keep children off the streets, always willing to go that extra mile to help others. Shawn will truly be missed because of all the things he accomplished and the many lives he has touched. "It takes a village to raise a child, and Shawn has raised many."