Alexis I. duPont High School
In Memory
Bridin Reynolds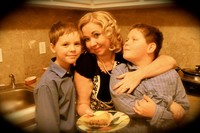 From Bridin's Father:
I lost my first born child this morning. Bridin Clare had just turned 44 years old. She was an amazing, creative woman who was the most devoted mother I knew. She had been sick but we thought she was getting better. Her boys called me because they could not wake her up. When I got to her apartment and tried to wake her, I knew right away she was gone. This should not happen to any parent. Please pray for Bridin and her boys.
---
Bridin Clare Reynolds
Age 44, passed away at home, on Saturday, April 5, 2014.
Bridin is the daughter of Michael P. Reynolds and Alice C. Casey, and was born on February 19, 1970.
Bridin was a graduate of St. Ann School, A. I. duPont High School, and attended American University and University of Maryland. She was a member of Alpha Chi Omega sorority.
She was a gifted writer and held the position of editor of the newspaper during her junior and senior years in high school. Bridin received the award of High School Journalist of the Year in 1988. She also wrote for the Cape Gazette and for campaigns of many Democratic candidates. She wrote the book "Overheard from My Kitchen" about funny conversations between her and her twin boys.
Bridin was the owner of Riverview Treehouse Restaurant during the 1990's and was a caterer through the years after she sold the Treehouse. She enjoyed spending time at Dewey Beach.
Bridin was a devoted mother who treasured every day with "the boys." She lighted the lives of so many friends and family with her sense of humor and love of life.
In addition to being survived by her parents, Michael and Alice, she leaves behind her beloved boys, Keegan and Nolan Hughes; her sisters, Mary Casey Reynolds, Megan A. Reynolds (and her partner, Sarah Hill), and Kathleen M. Reynolds; her brother, Michael P. Reynolds, Jr.; her nieces, Georgia and Rosalie; and many, many aunts, uncles, and cousins.
Bridin was especially blessed by a beautiful friendship with her sorority sister, Siobhan Ridgway Gazur.
Relatives and friends are invited to the Mass of Christian Burial on Thursday, April 10, 2014 at 11:00 am at St. Ann R. C. Church, Union Street and Gilpin Avenue, Wilmington. Relatives and friends are invited to the viewing on Wednesday evening, April 9, 5:00-8:00 pm. Burial will be in All Saints Cemetery.
In lieu of flowers, please make donations to Trust for Bridin's Boys, Keegan and Nolan, c/o Krienen-Griffith Funeral Home, 1400 Kirwood Highway, Wilmington, DE 19805.
Krienen-Griffith
Funeral Home
302.994.9614
www.delawarefuneral.com